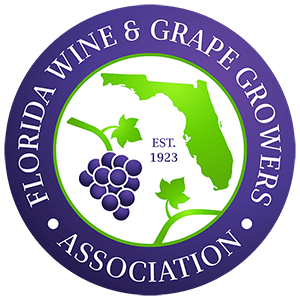 Register NOW for the 2022 FGGA Annual Conference held June 17-18, 2022. 
The 2021 Florida State Fair International Wine Competition will be scheduled in 2022.
Letter from the FGGA President and Upcoming Conference Details
The mission of the Florida Wine and Grape Growers Association is to promote the production and appreciation of premium grape and fine wines from Florida, and to represent unity with regard to common marketing, governmental and educational goals.
Educate
Share Resources

Provide Instruction

Disseminate Information
Promote
Develop Awareness

Market and Publicize

Support and Sponsor Research

Empower
Wine and Juice Competitions

Governmental/Legislative Unity

Leadership Opportunities
Florida Wine Producers (2017)
Acreage Under Vine in Florida (2017)
Florida Ranking in Wine Production by State (2017)
Florida Wine Production in Gallons (2012)
Florida Winery Jobs (2017)
Annual Florida Winery Tourist Visits (2017)
$Billion Total Taxes (2017)
$Million Tourist Expenditures (2017)
GROWTH OF CERTIFIED FLORIDA WINERIES
1991

3%

3%

1997

6%

6%

2003

14%

14%

2010

16%

16%

2014

24%

24%
FLORIDA WINERY, VINEYARD & U-PICK DIRECTORY